The mission of the Mitchell Technical College Alumni Association is to promote the interests of the institute and to create opportunities for alumni to participate fully in the life, vitality and future of the Mitchell Technical College. 

The Association's objective is to be a strong and vocal advocate for the Mitchell Technical College. To that end, the board  sponsors the annual Mitchell Technical College Golf Classic in September each year, co-sponsors the Bowling Party with the Student Representative Board each year and participates in several Mitchell Technical College Foundation events.
We would like to thank all those who graduated from Mitchell Tech, attend Mitchell Tech, and support Mitchell Tech. We know that each of you is proof that you can be the best with a Mitchell Tech education!
Career Services for Alumni
As an alum of Mitchell Tech, you have access to MyCareer Tools.
MyCareer has all the Tools you need to:
view career opportunities posted by employers
post and manage your personal resume and store other application materials
report or update your current career status
access helpful resources to aid in your job search
and more!
IMPORTANT WARNING: As employers post job listings to our electronic job board, Mitchell Tech attempts to filter out any job listings that could potentially be a hoax. However, scammers are becoming more sophisticated in their approaches. Always be on the lookout for job scams! Learn more on how to protect yourself against scams and identity theft.
Click here for tips to avoid job scams.
MITCHELL TECH ALUMNI INSTRUCTIONS FOR MYCAREER TOOLS
As a Mitchell Tech Alum, you have access to MyCareer Tools indefinitely.  This site, powered by a third-party vendor, 12Twenty, will provide career listings posted by employers and allow you to promote yourself by uploading your primary resume for employers to view.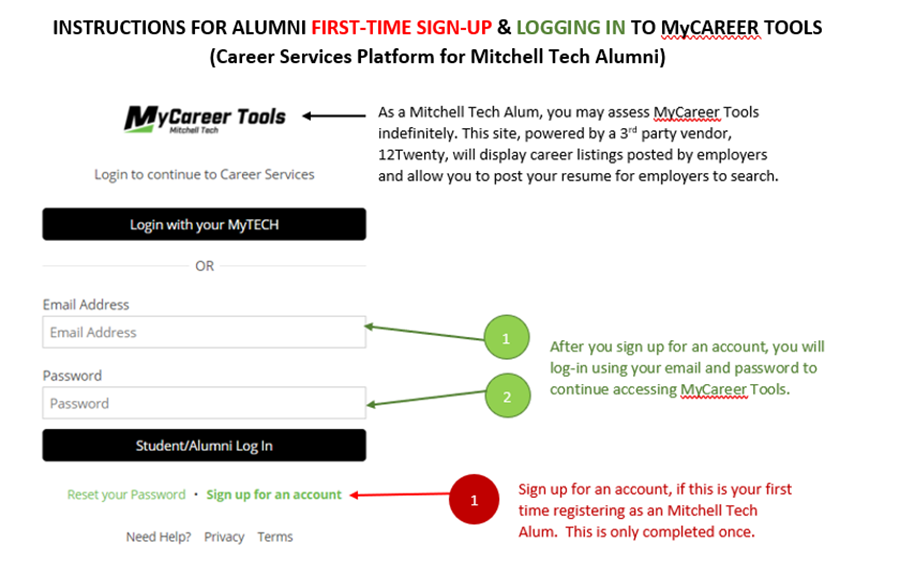 Click here for more detailed instructions on how to navigate MyCareer Tools (powered by 12Twenty)
Update Your Contact Information
We want to hear from you! Check in periodically and let us know how you're doing. Maybe you have a great story to tell, a tip to share or an idea that could help us become even better.
Take a moment and fill out the form below. We look forward to your update!