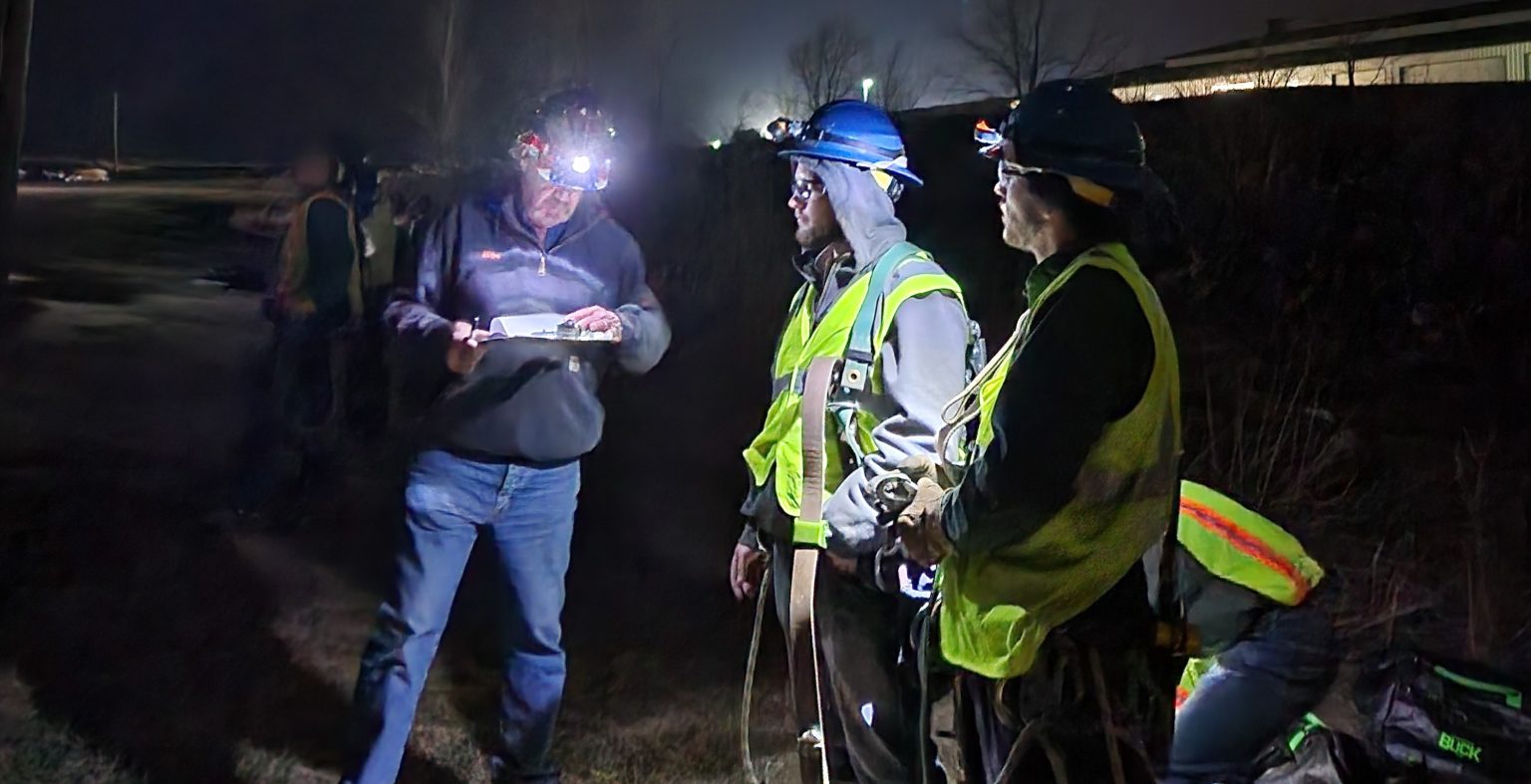 Power Line program director's impact felt across industry
Mike Puetz, director of Mitchell Technical College's Power Line Construction and Maintenance program, has been named to the prestigious Marquis Who's Who directory.
"I didn't expect this, and I have no idea who nominated me for this award, but it's been a humbling process," Puetz said. "They tell me that this will bring notoriety and recognition from people, but I don't need all that. I have all of my students and past students – I've got more than enough people out there who know me and my work. That's what matters to me."
Factors such as position, noteworthy accomplishments, visibility and prominence in a field are all taken into account during the selection process, according the company.
Puetz, who graduated from the program he now leads in 1991, accepted a "temporary" position teaching budding power line workers in 1996. Two decades later, Puetz has had a direct impact on the careers of 1,686 line workers during his tenure, and an indirect impact on thousands of others'.
"Our graduates are working in power companies serving virtually every community in the state, and (Puetz's) career has kept the lights on across South Dakota for over the last 26 years," Mark Wilson, president of Mitchell Tech, said.
Each year, the Power Line Construction and Maintenance program at Mitchell Tech is among the first to fill to capacity with students eager to enter the field.
"It's hard work, and the conditions can be rugged, especially for those who stay to work in the Midwest, but (Puetz) and his team in the Power Line Construction and Maintenance do a great job to prepare them for all of it," Wilson said. "Under his leadership, students not only learn the hands-on skills necessary to be the best in their chosen field, but they also learn what we call soft skills, including work ethic, time management, professionalism and integrity. He sets a high standard and expectation for all students to be productive in the workforce and good citizens in the communities they serve. Those qualities make our graduates a commodity in the labor market."
During his time at Mitchell Tech, the Power Line Construction and Maintenance program has increased from two to five, and enrollment has doubled, with 115 students accepted to the program this fall. Over that time, the industry has seen a lot of change, but Puetz proudly shares that some things have stayed the same.
"I'm now teaching the second generation of line workers in some families," he said.
This fall, one family sent their third and final son to learn their father's trade, and several other families have sent fathers, sons and cousins through the program over the years.
"It's rewarding to look at the photos on the wall with all of our graduates over the years and see so many familiar names and faces," Puetz said. "A lot of them, I keep in touch with, and many come back to campus for industry training. We are the only power line program in the state of South Dakota, so there aren't many working in the industry right now that I didn't teach."
Although Puetz anticipates he will dim the lights in his Mitchell Tech office for the last time within the next few years, his legacy will continue to be a guiding light for the power line industry for years to come.
Being named to the Marquis Who's Who wasn't exactly on Puetz's bucket list – he said he would prefer to quietly continue to do his work without recognition – but officials at Mitchell Tech insisted that he accept the honor and allow his professional biography to be featured.
"When you've got someone like (Puetz), who has made such an impact on an entire industry, and their work is recognized nationally, it is only right that they receive the notoriety they've earned – whether or not they think it is necessary," Wilson said. "Thanks to the work he has done on campus, alumni have been able to keep the power on at countless homes and businesses, allowing everyday activity to continue and countless advancements in technology, medicine, academia and various other industries to be made. The impact of the power line industry – and, specifically, Mike Puetz, is immeasurable."
According to Marquis, since 1899, the company has chronicled the lives of the most accomplished individuals and innovators from every significant field of endeavor, including politics, business, medicine, law, education, art, religion and entertainment.
"Marquis celebrates its 125th anniversary in 2023, and Who's Who in America remains an essential biographical source for thousands of researchers, journalists, librarians and executive search firms around the world," they said in a release announcing Puetz's recognition.
Marquis's online publications can be viewed at marquiswhoswho.com, where hard copies of each edition are available for purchase.